​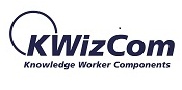 Since 2005, KWizCom has provided innovative solutions and services to make SharePoint even better for over 7,000 companies worldwide. KWizCom is a leading provider of SharePoint Forms, Workflows, Mobile, Wiki solutions, and over 70 other add-ons for SharePoint on-premises and apps for Office 365. KWizCom is a Gold Certified Microsoft Partner is headquartered in Toronto, Canada. To find out more about the company and its products, please visit www.kwizcom.com.
Official distributor in Spain: Bittek Soluciones Tecnológicas website: https://kwizcom.bittek.eu/ email: kwizcom@bittek.eu
When and why your company started to operate in the tech world? KWizCom was founded in 2005 in Toronto, Canada. After encountering the numerous business needs unsolved by out-of-the-box SharePoint, we saw the need to develop pocket-friendly and easy to use add-ons that enhance SharePoint and are specifically designed for non-technical business users. Solutions that provide freedom to end-users to make SharePoint even better and customize it according to their business needs without having to rely on technical people or power users. KWizCom developed over 60 plug-ins that solve various SharePoint challenges and rapidly became one of the leading providers of SharePoint add-ins worldwide. Our portfolio of products is comprised of easy to use add-ons and offers a solution for almost any gap in SharePoint.
What are the main technical activities the company does Today?
KWizCom communicates with its customers on a regular basis, thoroughly learns its customers' needs and, accordingly, develops powerful yet easy to use SharePoint add-ins and apps for SharePoint Online to empower end users to address their business needs without having to rely on technical people. KWizCom's product portfolio is constantly updated with new version releases and new solutions for SharePoint and Office 365. Additionally, the company offers professional services where customization of certain features or a solution is done to meet the specific customer business requirements. Last but not least, KWizCom's technical support team provides outstanding service and firmly stands behind each client to support and guide them at every step of their journey.
What are the main non-technical activities the company does Today?
KWizCom is an active supporter of various charity organizations and gladly sponsors some of their events, as well as provides free products for their company usage.
What are the activities the company does to support Microsoft Technical Communities? KWizCom is an active supporter of numerous Microsoft technical communities and events. We support various Microsoft communities throughout the world by sponsoring their events and conferences. Moreover, KWizCom frequently hosts technical web casts where the attendees learn valuable knowledge which they can implement in their daily work while working in SharePoint. It's worth noting that the company has a page dedicated to technical blog posts, and often participates in online discussion boards to share valuable experience, tips and their expertise. Importantly, KWizCom also has several open source projects that the company shares with the community on GitHub.
KWizCom Forms is one of your most popular products. Why did you develop it and what does it do?
We have talked to myriads of SharePoint users and our existing customers to learn about their business needs and the challenges they face in their daily lives when working with SharePoint. Numerous times we heard similar stories that SharePoint end-users with no technical skills had to depend on forms experts to create the dynamic forms they need. Having to rely on someone else for simple forms customization created a bottleneck in many companies (which in turn, increased the cost of form creation and maintenance). The business users wanted one thing - to simply get the freedom to create smart and flexible forms depending on their specific business requirements. The existing Forms solutions are designed for technical power-users. Tools such as Microsoft Power Apps and Microsoft InfoPath, as well as other 3rd-party Forms tools are all similar in the way they all display a rich, "visual studio"-like designer which is far too technical for business-users that obviously cannot get near such a tool.
KWizCom has listened closely to the feedback and took the challenges the SharePoint users were facing to heart and has developed a powerful yet user friendly solution to address these issues.
KWizCom Forms was developed as a result, which empowers non-technical SharePoint users to effortlessly create sophisticated dynamic and smart forms from scratch in a matter of minutes. Designed for business end-users and not for power users, this cutting-edge Office 365 add-in dramatically reduces the cost of ownership as it removes the bottleneck of forms creation, because now many more users can easily create flexible forms.
Additionally, KWizCom Forms add-in is a SharePoint-hosted app which means it does not replace the SharePoint native forms, but rather enhances them, and allows customers to keep their SharePoint extensibility features (such as add custom columns to their forms).